Cucambas, the bird character wearing a heavy coat made of leaves, is related to the personage of the God. Using the maracas (shakers) Cucambas warn against the Devil.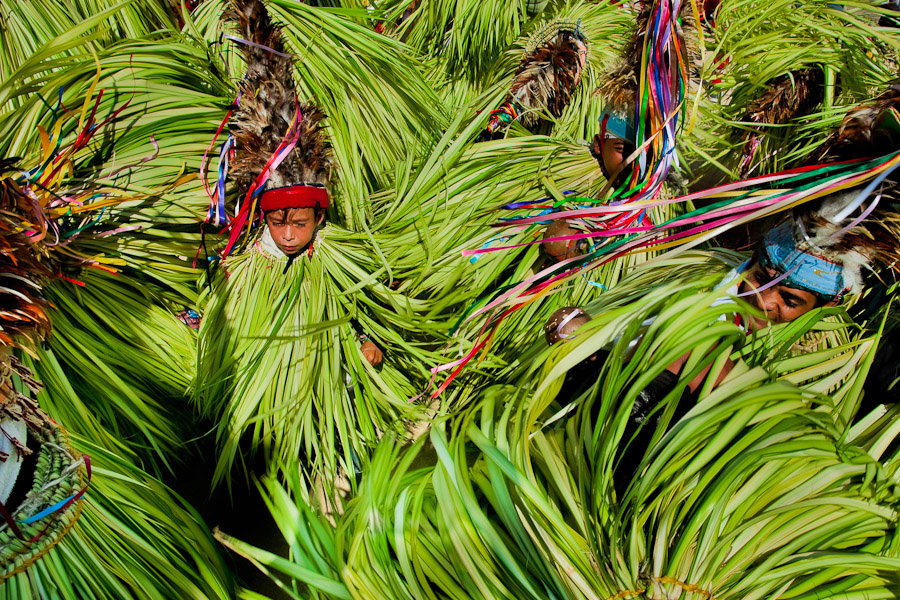 The group of the Devils (Diablos) represent the Evil. They roughly trample down, they shout and jingle with hundreds of little bells tied up to their legs. They laugh at God.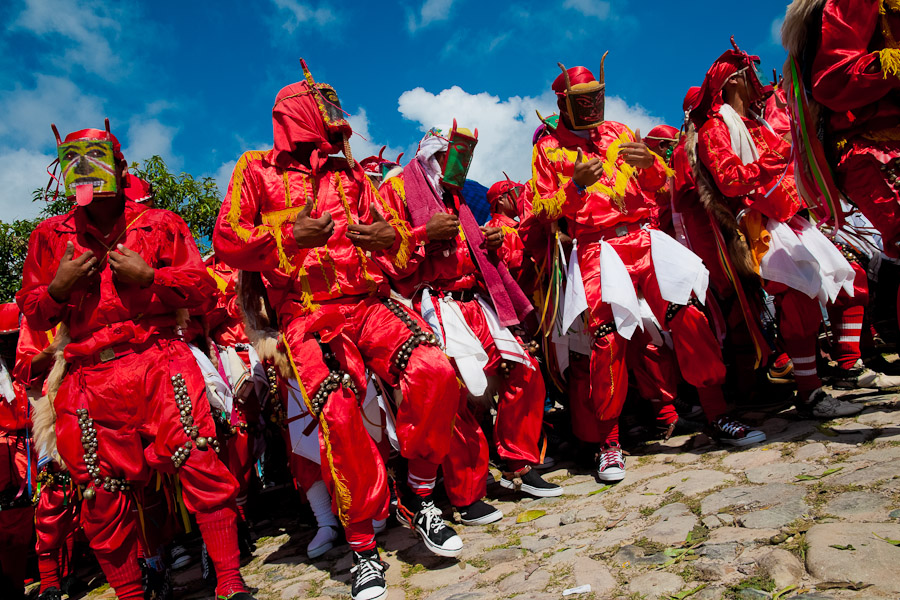 Negros and Negritas, both male and female with colorful hats, are protectors. With their wooden machetes they defend Cucambas (God's messengers) against Diablos (Devils).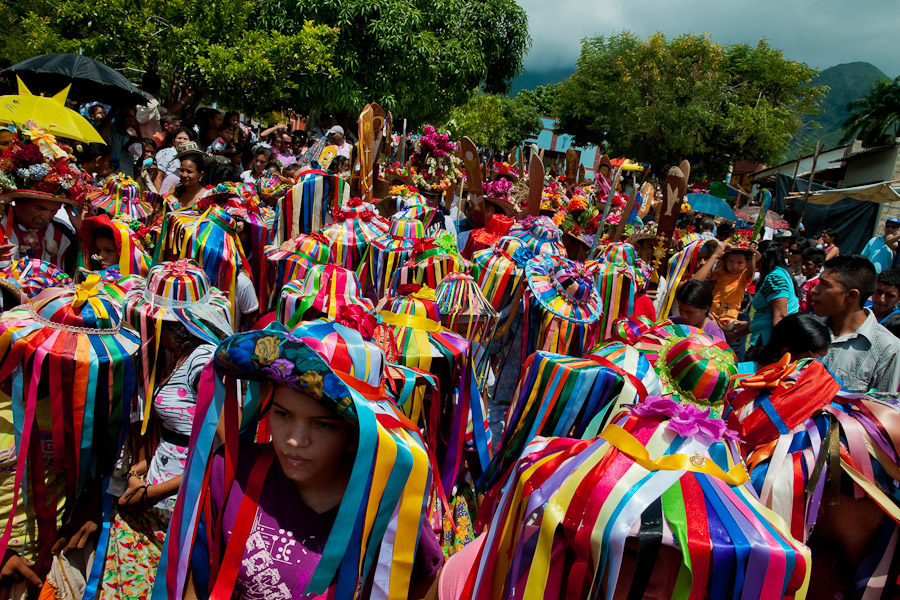 The Cucamba bird costume is made of palm tree leaves, stitched up into a 3-4 meters long strip. The adult's dancer costume may weigh up to 25 kilograms.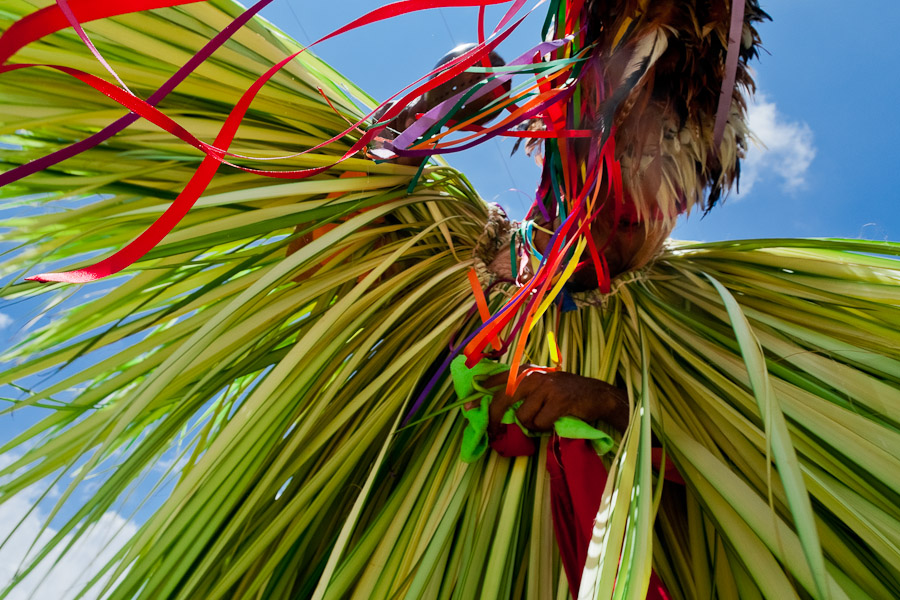 The whole spectacle makes stops at places which are worshiped as sacred in the Kankuamo mythology. The Devils perform a fast rough dance demonstrating a fictitious fight.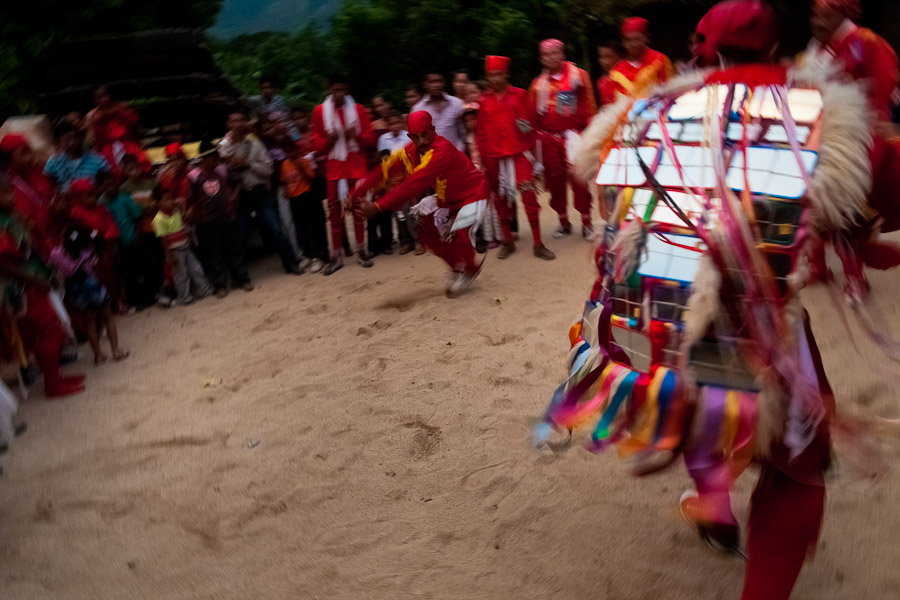 Religious syncretism is clearly expressed during the Corpus Christi event. Unrelated traditions were incorporated into the Christian (catholic) platform.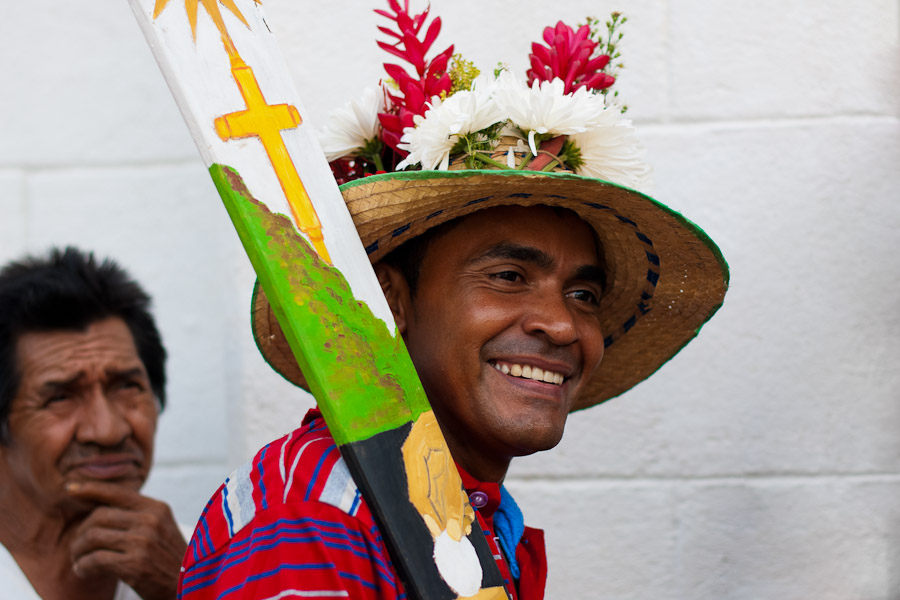 Devils, carrying small mirrors on the backs, wish to take possession of the Sun's fecundity power by attracting its reflections and imprison it on their backs.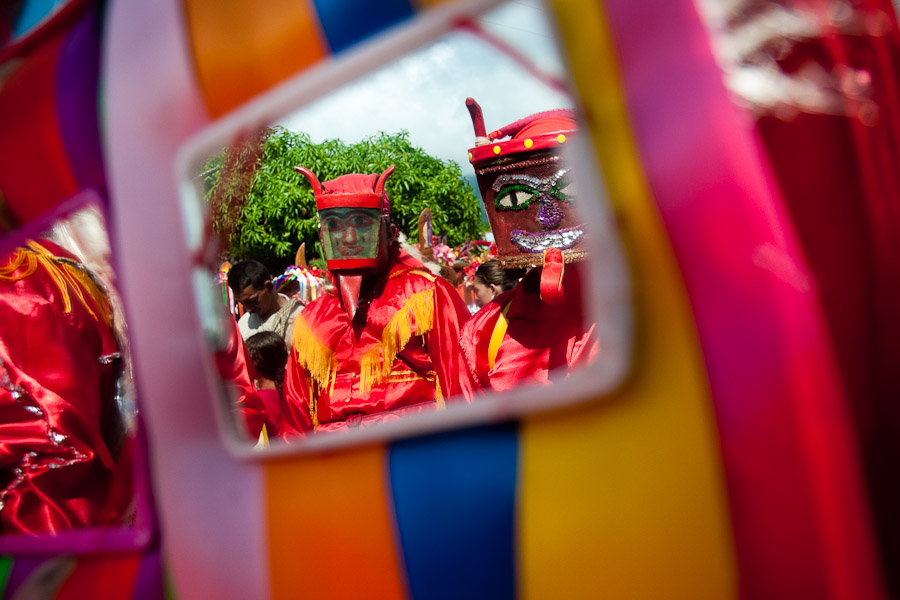 The Cucamba bird character comes from the Kankuamo Indian tradition. Kankuamos are the native inhabitants of the Sierra Nevada mountains.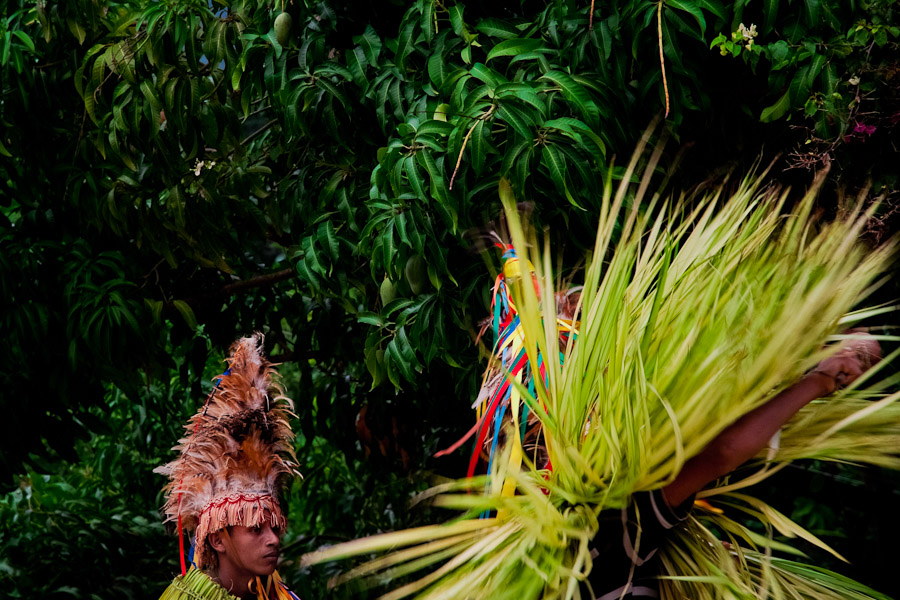 As the African slaves worshiped the demonic spirits regularly, it is presumed that the Devil character has its roots in animistic cults from western Africa.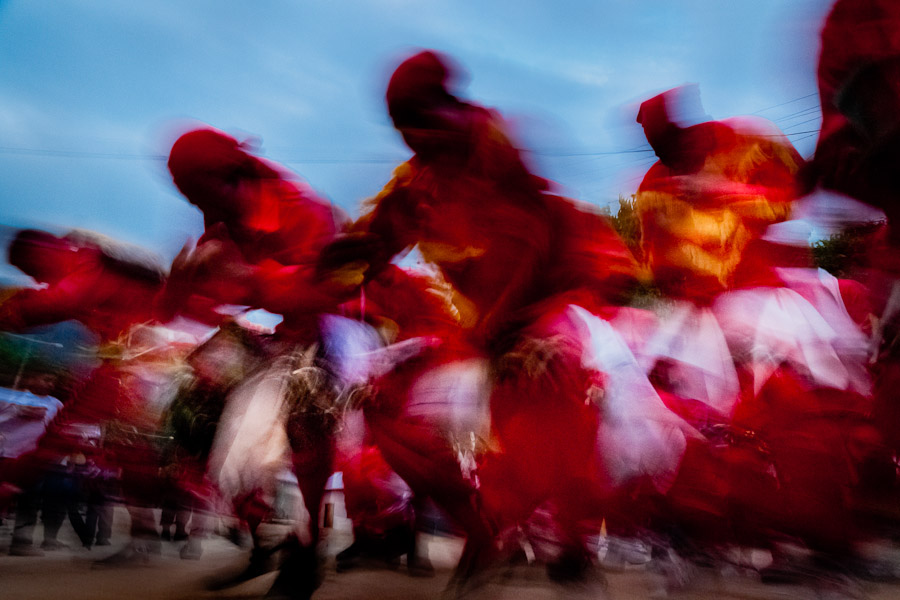 The whole Corpus Christi procession dance around the village three times a day. The most important spot of the path is the Church where the mass is celebrated.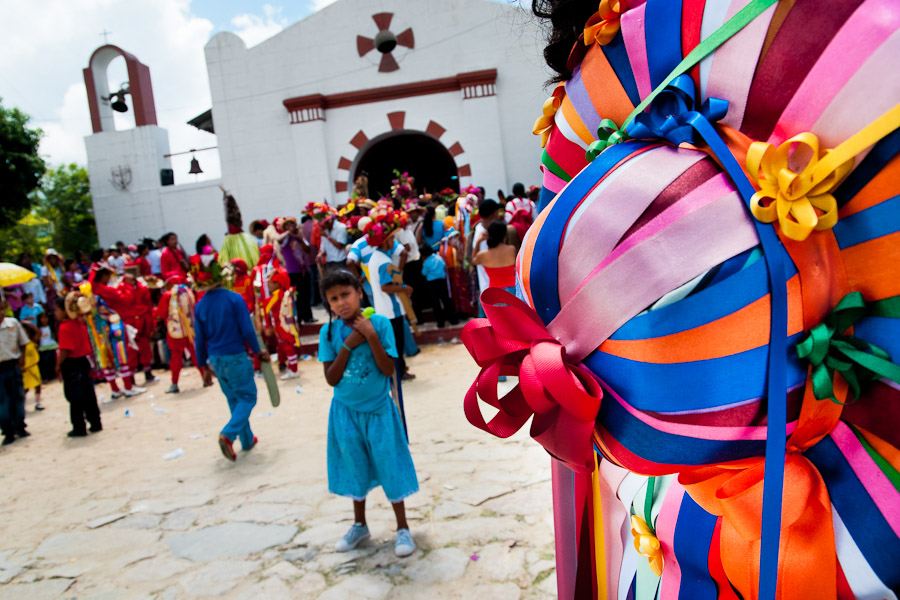 When the procession stops in front of the improvised altars made along the path, the Devils always kneel down and bow down their heads facing the God.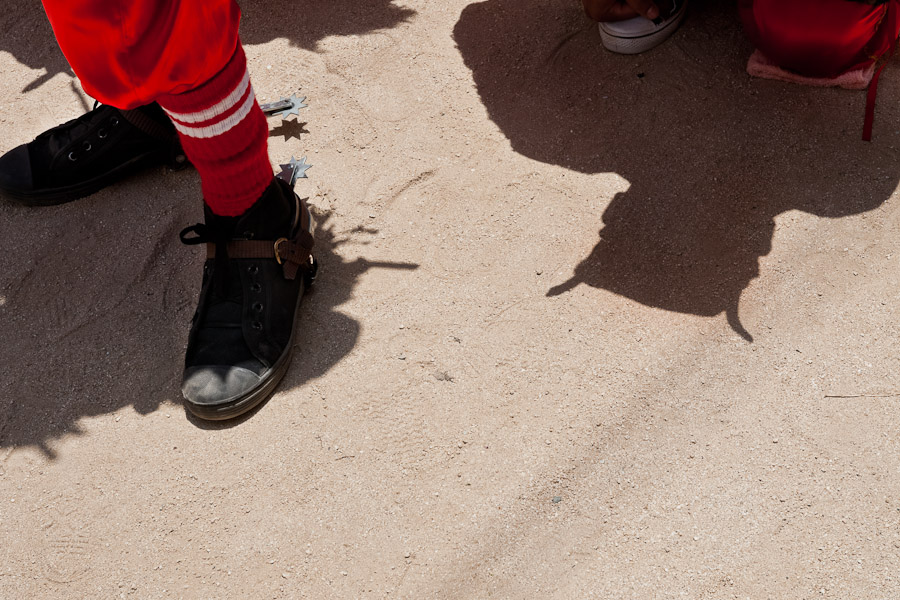 ---
Dancing Devils
Atanquez, Sierra Nevada, Colombia – 3 June 2010
At the foothill of the snow-covered peaks of Sierra Nevada, within the Kankuamo Indians territory, a colorful celebration of the Christian feast of Corpus Christi is held every year. "The Dance of the Devils" is an ancient tradition kept for centuries in few communities on the Colombia's Caribbean coast. This Christian religious event usually coincides with the summer solstice, which has always been the key point for the native cultures and for the black African slaves. Due to this confluence, the Kankuamo myths and the African animistic rites have blended with the Spanish Catholic festival. The pagan Demon characters, the Indian sacred places and other Pre-Columbian features were incorporated into the Corpus Christi event, often with catholic-friendly significations. Although the ritual celebration of the natural powers and spirits was twisted into an allegorical fight between the God and the Devil (the Good and the Evil), it remains a lively, joyful spectacle.